Photo of Carretón de Ip (Huesca)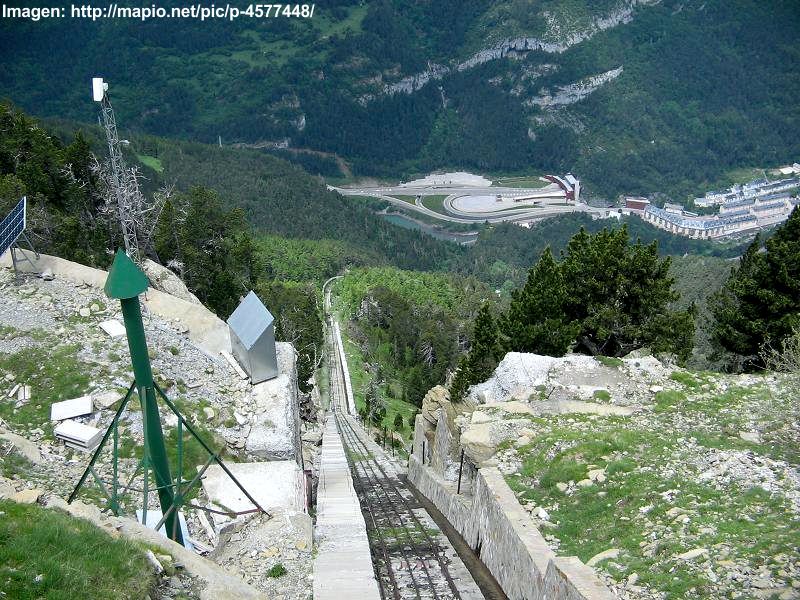 Fotografía procedente de Panoramio, reproducida en la web mapio.net, de las vistas desde la parte superior del carretón de Ip.
List of photographs
Historical Review
En las cercanías de la población oscense de Canfranc, conocida por su excepcional estación internacional de ferrocarril, existen numerosas infraestructuras de aprovechamiento hidráulico para producción de electricidad. Es el caso del Ibón (Lago de origen glaciar) de Ip, transformado en embalse, y cuyo acceso para labores de construcción y mantenimiento es muy complicado debido a la excepcional orografía de la zona. Para solucionar el acceso y acompañar a una tubería de agua de uso hidroeléctrico, se montó un funicular, denominado el Carretón de Ip. Se inauguró en la década de los sesenta, siendo abandonado en 1997.
Technical data
Funicular
Fecha de inauguración
-
Velocidad de servicio
- m/s
Ingeniero
-
Accionamiento
Eléctrico
Constructor
-
Motor
Eléctrico
Propietario
-
Cable
- mm. de diámetro
Recorrido real
1500 metros aproximados
Vehículos
Desnivel
960 metros aprox. (-%)
Longitud de coches
- metros
Ancho de vía
- metro
Capacidad
- t.
Montaje
Carriles sobre traviesas de madera embutidas en plataforma de hormigón
Freno
-
Cruce
-
Peso Vacío / Servicio
- Kg / - Kg.
Alineación
-
Iluminación
No posee
Video
Map