• Updated on: 16/05/2020 • Go back • Send correction or photo • Share:




Last pictures of this series
There are no pictures for this vehicle. You can upload the first!
Send a new photo
Historical Review
Tras la Guerra Civil, se reconstruyeron por parte de MZA 12 coches de viajeros del tipo Costa, de segunda clase para servicios de largo recorrido, pertenecientes a las series BW-23 a 53, BW-54 a 73 y BW-87 a 176, de distintos constructores y años. Dieron lugar a la posterior serie numerada en Renfe como CC-301 a 312, de tercera clase. Son coches de bastidor metálico y cja de madera, con balconcillos, y su interior se articula desde la reconstrucción en un pasillo lateral y departamentos, con aseo en cada extremo. Fueron apartados del servicio en los años 70, cuando la cantidad de coches metálicos de las series 5.000, 6.000 y 8.000 ya era suficiente para sustituirlos.
Technical data
| | |
| --- | --- |
| Unidades construidas | 12 |
| Constructor | Material para FFCC y Const., American Car & Foundry, SECN, Carde y Escoriaza |
| Año de construcción | 1916 a 1927 |
| Rodaje | 2'2' |
| Ancho de vía | 1668 mm. |
| Anchura de la caja | 3.156 |
| Altura del techo sobre el carril | 4.022 mm. |
| Longitud entre topes | 18.500 mm. |
| Longitud de la caja | 17.260 mm. |
| Peso (Tara/Carga) | 37,8 a 39,6 / - t. |
| Peso por eje | 9,45 a 9,9 t. |
| Peso por metro lineal | 2,04 a 2,14 t. |
| Freno | Vacío |
| Plazas sentadas | 56 en 7 departamentos |
| Velocidad máxima | - Km/h. |
| Calefacción | Vapor Heintz |
| Alumbrado | Eléctrico |
| Tipo de bogie | - |
Technical diagrams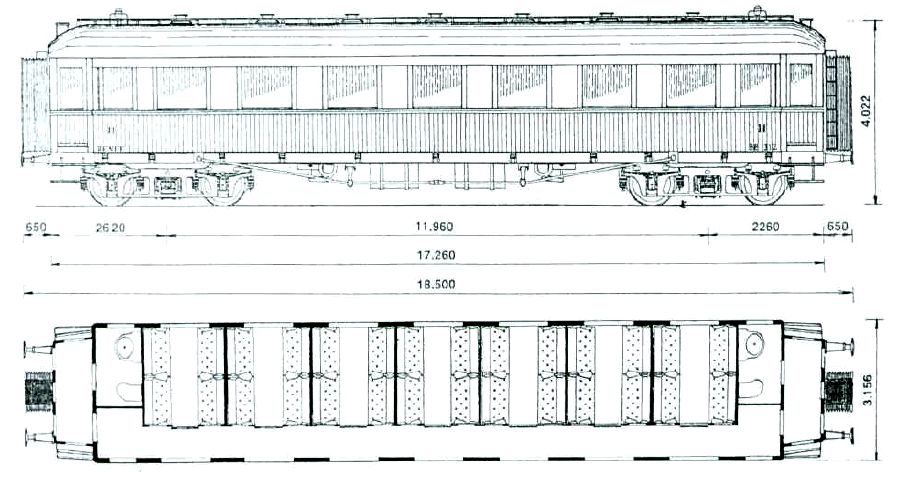 Author: Archivo FFE / Vía Libre